About Larry Eifert
Larry Eifert est le fils de l'écrivain Virginia S. Eifert descendante du républicain, professeur de mathématique, contrôleur des poids et mesures, Napoléon Ambroise Cottet.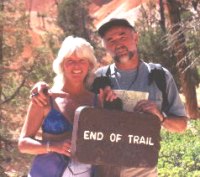 Straight ahead with the same old thing……..
I like to think to myself as a third generation naturalist and fifth-generation social activist. Some of that might be a stretch, but it gives me guidance never-the-less. I sometimes imagine the billions of choices I could have had for parents, and always feel fortunate I happened along this specific road this time around.
I was born in 1946 and exposed to nature and a pencil before I could walk. After nearly four thousand paintings later (to the best of my counting ability), I still get a real charge from creating art about nature. The year 2006 could probably be considered my 40th anniversary of making a living as an artist.
This was NOT an accident!
Home was Springfield Illinois, where my mother (author and illustrator of 20 books – mostly about nature) was editor of a museum nature magazine for 36 years. Her work is still in print after 50 years – and, like me, she thought nothing of traveling 5,000 miles on various river workboats for book research – or hiring a fishing boat to get to those remote refuge islands off the Gaspe Peninsula in Quebec Canada. My dad was very influential too. As education curator for the Illinois State Museum with a double-masters in ecology and English, shepherded thousands of kids (and me, too) through the museum. He also instilled in me a reverance for life. As an Army GI in WW2, he never carried a gun, although he was shot at by snipers he could clearly see in the hills above the camp in New Caladonia. "Shoot a gun, you're out of the family,"I remember hearing often. From these pretty rarified beginnings, I gained early mentoring from both parents and museum staff – and never really looked back. Mine is a continuing passion instilled from many sources, from the boyhood time spent at, say, Rachel Carson's home in Maine, to the museum babysitters who said "Here – draw this giraffe and don't bug us." To me, life was all about nature and discovering it.
After coming to the Pacific Northwest in 1972 in search of "rainy forests and wind-swept beaches," I opened the Eifert Gallery in Ferndale California, and during the 1980′s and early 90′s and exhibited both my own work and many other artists. It was here that I learned about painting parks. Now, I can say I have more work in America's National Parks and refuges than any other artist.
Today, Nancy and I live in Port Townsend, Washington near Olympic National Park.
Click here for our main website at larryeifert.com
Click here for Nancy's website at
nancycherryeifert.com